2009 GIG GUIDE

Welcome to the Resistance 77 gig guide page!

Please check back regular as gigs will be added as they come through.

Hope to see you at one soon!!


Currently showing 2009 gigs
Friday 18th December 2009 with Last Resort
** THIS GIG HAS BEEN CANCELLED **
The Mill, Mansfield
The Mill - Bridge St - Mansfield - Notts - NG18 1AN
Friday 13th November 2009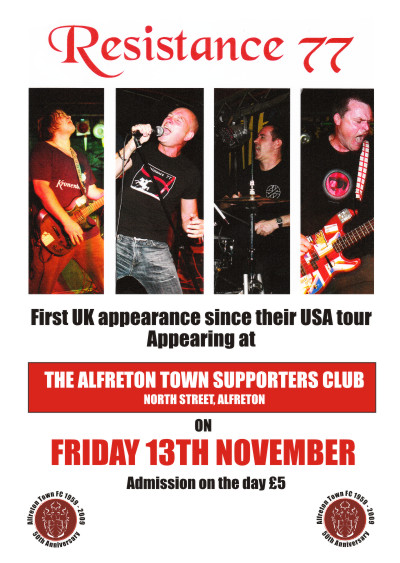 Alfreton Town Supporters Club
North Street, Alfreton
Saturday 26th September 2009

Play it Loud at Baseball Tavern
1270 Boylston St, Boston, MA 02215, USA
Thursday 24th September 2009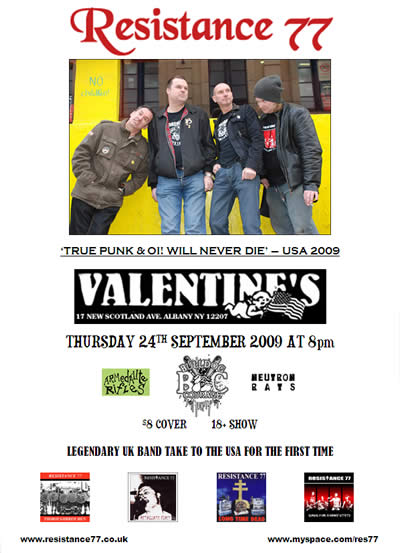 Valentine's
Albany, New York, USA



Playing with:

ARMEDALITE RIFLES

BULLDOG COURAGE

NEUTRON RATS
Tuesday 22nd September 2009

The Brighton Bar
Long Branch, New Jersey, USA



Playing with:

HUB CITY STOMPERS

SQUIGGY

SOMERVILLE TOWN DRUNKS
Monday 21st September 2009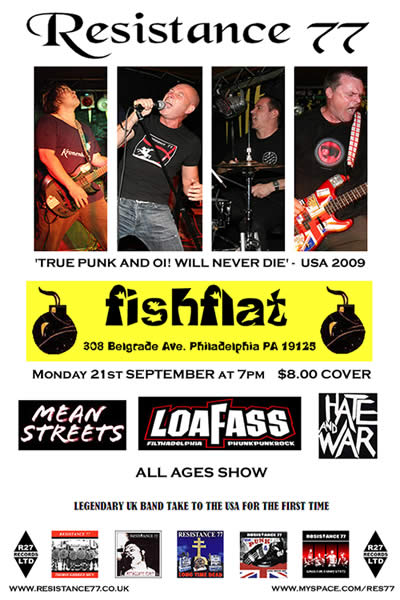 The Fish Flat
Philadelphia, Pennsylvania, USA



Playing with:

MEAN STREETS
LOAFASS
HATE & WAR
Sunday 20th September 2009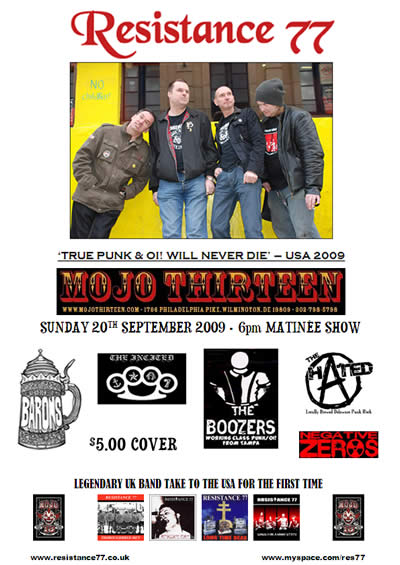 Mojo 13
Wilmington, Delaware, USA



Playing with:

THE BARONS
THE BOOZERS
THE INCITED
THE HATED
NEGATIVE ZEROS
Saturday 19th September 2009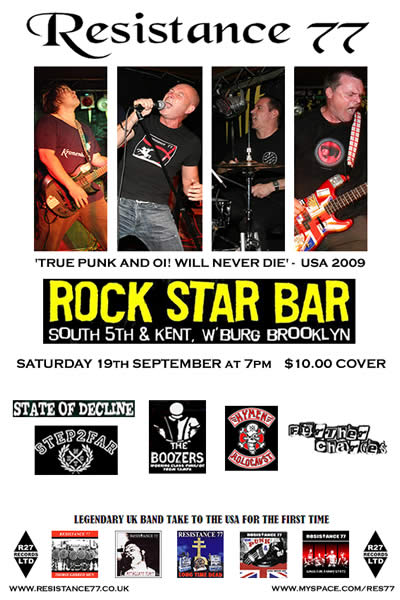 Rock Star Bar
Brooklyn, NYC, New York, USA



Playing with:

STEP2FAR

BOOZERS

HYMEN HOLOCAUST

STATE OF DECLINE

FURTHER CHARGES
Friday 18th September 2009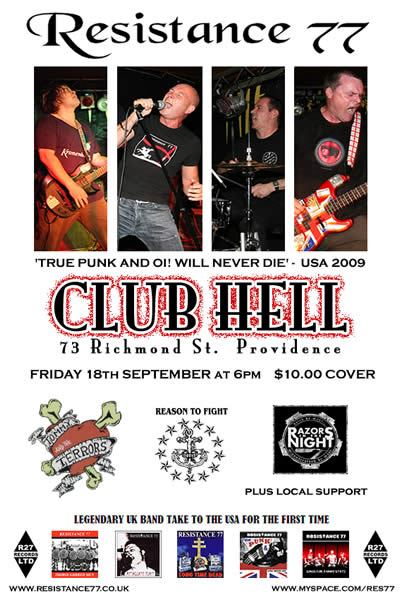 Club Hell
Providence, Rhode Island, USA



Playing with:

TOMMY & THE TERRORS

REASON TO FIGHT

RAZORS IN THE NIGHT
Thursday 6th August 2009 - Sunday 9th August 2009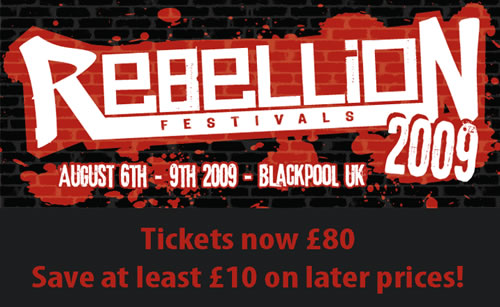 The Winter Gardens
The Winter Gardens,
Church Street,
Blackpool,
Lancashire,
FY1 1HL


Saturday 25th July 2009 with many more....
Friday 26th June 2009 with UK SUBS
Town Mill
Bridge Street, Mansfield, Notts. NG18 1AN
Cost:
Ticketweb 08700 600 100
Saturday 23rd May 2009
Nice n Sleazey Fest
Trimpell Social Club,
Outmoss Lane,
Morecambe,
Lancashire,
LA4 4UP
Friday 22nd May 2009 with NO TRILLS
ST BEDES CLUB
Silloth Street, Carlisle, Northwest
Sunday 26th April 2009
St.Georges Day Bash, We're on at 7pm
The Club
Shepshed, Leicestershire, Midlands
Friday 24th April 2009 with support
Once capacity is reached no
further admittance will be allowed!
Entry includes free raffle ticket with proceeds going to the Army
Benevolent Fund.
Tickets available from The Black Horse, local outlets, band members
The Black Horse
Lower Somercotes, Derbyshire. DE55 4LP
Cost:
Advance tickets £5.00 or pay on door
Sunday 12th April 2009 with Blaze of Glory, Sam Beeton, The Modfathers, Baggy Trousers and more!
Concert For Life


Doors open 5pm till 1am
Rock City
8 Talbot Street, Nottingham, NG1 5GG