2010 GIG GUIDE

Welcome to the Resistance 77 gig guide page!

Please check back regular as gigs will be added as they come through.

Hope to see you at one soon!!


Currently showing 2010 gigs
Sunday 12th December 2010 with 10 oclock Horses & Flying Blind on a Rocket Cycle
SOS Festival
Town Mill
Town Mill, Bridge Street, Mansfield, Notts, NG18 1AN
Saturday 13th November 2010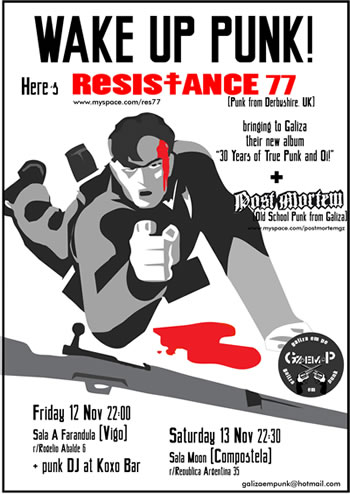 Sala Moon, Vigo, Spain
22:30pm

Sala Moon, [Compostela], r/Republica Argentina 35
Friday 5th November 2010 with Super Yob
Saturday 7th August 2010

THE ARENA - Rebellion Blackpool
The Winter Gardens, Church Street, Blackpool, Lancashire, FY1 1HL
Saturday 17th July 2010 with ANTI NOWHERE LEAGUE + KINGS OF DELMAR + SEPTIC PSYCHOS + CRIMINAL X + RIOT FOR DISCO + WONK UNIT + X RIPPERS + FULL CIRCLE + GO FAST OR GO HOME
3.00pm Start
The Mill, Mansfield
The Mill - Bridge St - Mansfield - Notts - NG18 1AN
Sunday 27th June 2010
The Red Lion
Moorland Road, Burslem, Stoke on Trent, ST6 1DJ
Saturday 19th June 2010
The Midfest Beer and Music Festival
The Rising Sun Inn
The Rising Sun Inn, Rise End, Middleton, Matlock, Derbyshire DE4 4LS
Saturday 5th June 2010 with UK Subs, The Billy Hunts and First Wave
Sunday 25th April 2010 with Fightback, First Wave and Guttersnipe Army
St.Georges Day Bash, We're on at 6pm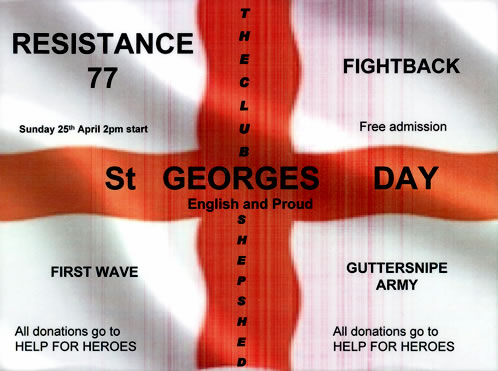 The Club
Shepshed, Leicestershire, Midlands
Saturday 24th April 2010 with Wasted Life and Skingraft
** THIS GIG HAS BEEN CANCELLED **
The Voodoo Lounge
67, Bryan Street, Hanley, Stoke On Trent, ST1 5
Friday 23rd April 2010
St Georges Day Event
1st Gig in South Normanton for 10 years!!
8pm Start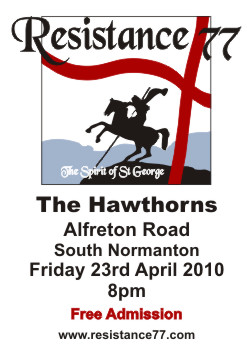 The Hawthorns
Alfreton Road,
South Normanton,
Derbyshire
Friday 9th April 2010
Rock For Heros
8 till Late
The Contact Club
Snape Hill Lane, Dronfield, Derbyshire