2014 GIG GUIDE

Welcome to the Resistance 77 gig guide page!

Please check back regular as gigs will be added as they come through.

Hope to see you at one soon!!


Currently showing 2014 gigs
Saturday 13th December 2014 with The Business

Door open at 6.30PM

Age 14+
Corporation, Sheffield
2 Milton St, Sheffield, South Yorkshire S1 4JU
Sunday 30th November 2014
Thursday 7th August 2014 - Sunday 10th August 2014

Sunday - Cashbah Stage - 11.35 - 12.25
Rebellion Festival, Blackpool
The Winter Gardens, Church Street, Blackpool, Lancashire, FY1 1HL
Friday 1st August 2014 with Dirtbox Disco, Electric Shite Orchestra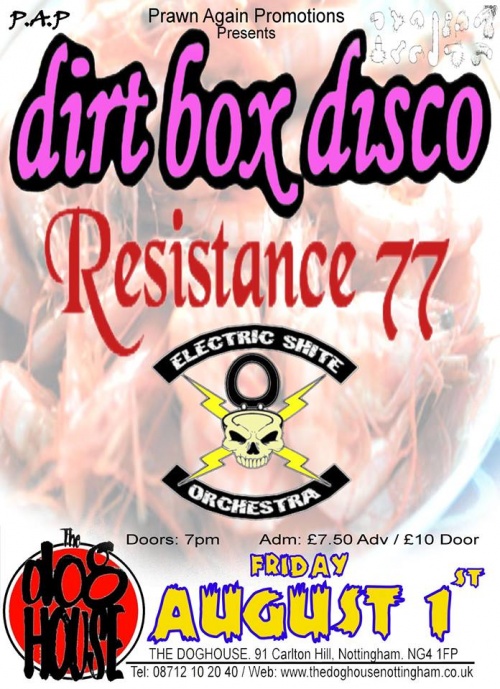 Doors open 7pm
The Dog House, Nottingham
91 Carlton Hill, Nottingham, NG4 1FP
Cost:
£7.50 adv / £10 door
Tuesday 24th June 2014
Riffs Bar, Swindon
26 Greatfield, Near Hook, Swindon, Wiltshire
Saturday 31st May 2014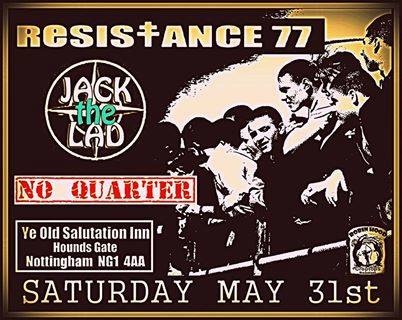 Ye Old Salutation Inn, Nottingham
Ye Old Salutation Inn, Hounds Gate, Nottingham, NG14AA
Saturday 10th May 2014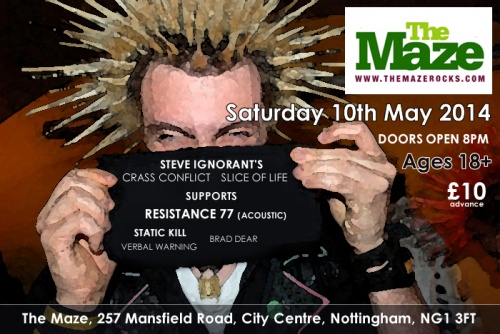 Ages 18+
Doors open 8pm
The Maze, Nottingham
257 Mansfield Road, City Centre, Nottingham, NG1 3FT
Saturday 5th April 2014
Friday 4th April 2014
Saturday 15th February 2014
PUNK N SKA - All Dayer

Resistance 77, Peter and The Test Tube Babies, Hung Like Hanratty, The Reverends, 3 Stone Monkey, Bread Chasers, Ubuntu, Lobster, Wonk Unit, The Nerks, The Shambollix, Bank holidays Jez, The Ruthless

£10 Early bird special
£15 On the door

Tickets also available in person from the maze and the black market venue.
Black Market, Warsop
High Street, Warsop, Mansfield, Nottinghamshire, NG20 0AB